DM-5 / DM-5MS

DM-5 & DM-5MS
• Bonded and cross-linked 5% diphenyl / 95% dimethyl polysiloxane
• General purpose column with low polarity phase
• Temperature range: -60 ºC to 350 ºC
• Solvent rinsable
• DM-5MS is a low bleed column, use for MSDs
• Similar to DB-5, SPB-5, HP-5, etc.
• Equivalent to USP G27, G36 phases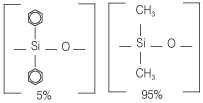 DM-5 column has a slightly higher polarity compared to DM-1, resulting in a better selectivity for aromatic compounds.
DM-5 column exhibits excellent reproducibility, high column efficiency, and low bleed. DM-5MS column exhibits ultra-low bleed with excellent inertness for active compounds and improves detection performance for MSDs, ECDs and NPDs.
Contact Dikma:
USA
51 Massier Lane
Foothill Ranch, CA 92610, USA
Tel: 1-866-889-9072
Fax: 1-866-833-2653
Email: sale@dikmatech.com
Business hours: 9 AM - 5 PM PST
Canada
255 Shields Court, Unit A
Markham, ON L3R 8V2, Canada
Tel: 905-944-8066
Fax: 905-944-0181
Toll-Free:1-866-889-9072
Email: sales@dimaglass.com
Business hours: 9 AM - 5 PM EST
Asia / Pacific Area
Room 9, 5F., No.763 Wenlin Road,
Shilin District, Taipei City
111, Taiwan
Email: paulw@dikmatech.com