DM-200 / DM-200MS

DM-200 & DM-200MS
• 100% Trifluoropropylmethyl polysiloxane
• General purpose column of mid-polarity phase
• Temperature range: -20 ºC to 340 ºC
• Bonded and cross-linked phase, solvent rinsable
• Similar to DB-200, DB-210, etc.
• Equivalent to USP G6 phase

Interaction between trifluoropropylmethyl phase and molecules with lone pair electrons or electron-rich molecules is easier, due to electrophilicity of the fluorine. DM-200 column has accomplished many difficult separations that are not possible on other bonded stationary phases, such as PH, CN and WAX phase. The trifluoropropyl stationary phase can change elution orders of compounds. The DM-200 column can make a qualitative analysis of phenols, nitrosamines, orgaochlorine pesticides, and chlorhydrocarbons and chlorophenoxy herbicides in coordination with the DM-5 column.
DM-200 column offers low bleed, superb inertness, and excellent thermal stability, even with sensitive detectors, such as ECDs, NPDs and MSDs.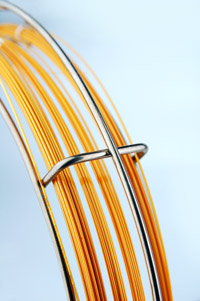 Contact Dikma:
USA
51 Massier Lane
Foothill Ranch, CA 92610, USA
Tel: 1-866-889-9072
Fax: 1-866-833-2653
Email: sale@dikmatech.com
Business hours: 9 AM - 5 PM PST
Canada
255 Shields Court, Unit A
Markham, ON L3R 8V2, Canada
Tel: 905-944-8066
Fax: 905-944-0181
Toll-Free:1-866-889-9072
Email: sales@dimaglass.com
Business hours: 9 AM - 5 PM EST
Asia / Pacific Area
Room 9, 5F., No.763 Wenlin Road,
Shilin District, Taipei City
111, Taiwan
Email: paulw@dikmatech.com