EasyGuard™ Guard Columns

Features of EasyGuard™ Columns
• Universal design to match any brand column
• A variety of optional bonded phase material
• Does not affect the analytical column resolution
• Long lifetime column cartridges, high performance and low price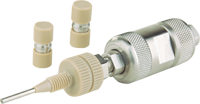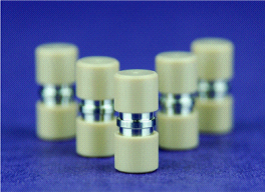 Balance
Guard columns provide protection against contamination with minimal impact on column efficiency. The column diameter determines both the sample loadability and column efficiency. A small diameter will decrease the column lifetime, but a large diameter will adversely affect column resolution. EasyGuard™ columns effectively profect the analytical column without adversely affecting the resolution or column lifetime.
Simple to Use
• Flexibility to move PEEK fittings
• Matches any brand analytical column
• Low dead volume connection
• Rugged 316 stainless steel column holder
Easy-Lok™ Coupler New!
When the EasyGuard™ guard column connects to a 250 mm analytical column, it can not fit in certain ovens (such as Agilent 1200) because the length is not long enough. The Easy-Lok™ coupler resolves this issue by removing the pre-tightened connecting pipe by wrench before using.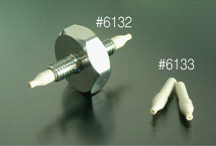 Contact Dikma:
USA
51 Massier Lane
Foothill Ranch, CA 92610, USA
Tel: 1-866-889-9072
Fax: 1-866-833-2653
Email: sale@dikmatech.com
Business hours: 9 AM - 5 PM PST
Canada
255 Shields Court, Unit A
Markham, ON L3R 8V2, Canada
Tel: 905-944-8066
Fax: 905-944-0181
Toll-Free:1-866-889-9072
Email: sales@dimaglass.com
Business hours: 9 AM - 5 PM EST
Asia / Pacific Area
Room 9, 5F., No.763 Wenlin Road,
Shilin District, Taipei City
111, Taiwan
Email: paulw@dikmatech.com